Tue, 04/22/2014 - 16:56 — Alan Weissberger
On April 22nd, AT&T reported that its first-quarter earnings were unchanged from the first three months of last year, but revenue grew as the wireless business added 1,062,000 wireless subscribers in the quarter. That includes 625,000 smartphones and tablets in "post-paid" plans. Wireless service revenue grew 2 percent to $15.4 billion. Total wireless revenue, including phones and tablets sales, grew 7 percent to $17.9 billion.
First-quarter net income was $3.7 billion, or 70 cents per share, compared with $3.7 billion, or 67 cents, a year earlier, when AT&T had more shares outstanding. Adjusting for one-time items, including costs related to its March acquisition of Leap Wireless, income was 71 cents per share, compared with 64 cents in the same period last year. Analysts expected 70 cents. Revenue grew 4 percent to $32.5 billion, better than the $32.4 billion analysts expected, according to FactSet.
"Customers really like the new mobility value proposition and are choosing to move off device subsidies to simpler pricing while at the same time, they are continuing to move to smartphones with larger data plans," AT&T CEO Randall Stephenson said in a statement.
In the landline business, revenue fell 0.4 percent to $14.6 billion. But its newer U-verse phone, TV and Internet service experienced solid growth. AT&T had 634,000 additional high-speed Internet subscribers and 201,000 TV subscribers.
http://about.att.com/story/att_first_quarter_earnings_2014.html
The company plans a major expansion of it's newly announced gigabit Internet service.
AT&T says it is ready to offer its fiber-based GigaPower in many more cities, and has opened negotiations with more than 20 municipalities to discuss the viability of fiber to the home for its high-speed U-verse triple play service platform. The proposed expansion, a component of the carrier's Project Velocity IP initiative, could see the delivery of 1 Gbps fiber-to-the-home service in a number of major metropolitan areas including Chicago, Los Angeles and San Francisco. Most of those new markets are currently served by Comcast and Time Warner Cable (which have agreed to merge). AT&T will only build out U-verse fiber to the home where it sees sufficient demand and a decent ROI.
AT&T executives have told investors recently that the deal has led them to recalibrate their priorities, prompting a more aggressive upgrade of their network. Lori Lee, Sr Executive VP of AT&T Home Solutions, said in a WSJ interview that the move would make AT&T a tougher competitor for the cable industry.
Earlier this month, AT&T said it was in advanced talk to bring speeds of up to one gigabit per second to six North Carolina cities, in addition to its current upgrading of Austin and plans for a similar service in Dallas.
The rollout is happening as Google builds up its own network of fiber in cities like Austin and Kansas City, Kans. In February, Google said it was eyeing dozens of municipalities where it wanted to expand its fiber network.
AT&T said Monday (April 21st) that it is looking to bring its higher speed service to Kansas City and the surrounding area, which was Google's first location for its fiber service.
AT&T said the upgrades will fall under its planned spending to upgrade the bulk of its network to run on Internet technologies and won't affect its 2014 budget.
The new cities are mostly ones where AT&T already offers its U-verse Internet and television services. AT&T has built a fiber-based network for the U-verse service, but typically uses copper wire to make the final connections to buildings.
http://online.wsj.com/news/articles/SB10001424052702304049904579515790508491128?
AT&T has already begun to roll out GigaPower in pockets of Austin, Texas, starting off with a 300 Austin, Texas, starting off with symmetrical speeds, and expecting to upgrade that to 1 Gbps by mid-2014. AT&T has previously announced plans to roll GigaPower to Dallas this summer and that it is in "advanced discussions" with the North Carolina Next Generation Network (NCNGN) to bring GigaPower to six cities in North Carolina, including Raleigh-Durham and Winston-Salem.
Here's an updated list of current and potential AT&T U-verse GigaPower markets, and the incumbent cable operator that serves each market:
Atlanta, Ga. (Alpharetta, Atlanta, Decatur, Duluth, Lawrenceville, Lithonia, McDonough, Marietta, Newnan, Norcross, and Woodstock). Incumbent MSO: Comcast

Augusta, Ga. Incumbent MSO: Comcast

Austin, Texas. Incumbent MSO: Time Warner Cable

Charlotte, N.C. (Charlotte, Gastonia, and Huntersville). Incumbent MSO: TWC.

Chicago, Ill. (Chicago, Des Plaines, Glenview, Lombard, Mount Prospect, Naperville, Park Ridge, Skokie, and Wheaton). Incumbent MSO: Comcast

Cleveland, Ohio (Akron, Barberton, Bedford, Canton, Cleveland, and Massillon). Incumbent MSOs: TWC and MCTV.

Dallas, Texas (Dallas, Farmer's Branch, Frisco, Grand Prairie, Highland Park, Irving, Mesquite, Plano, Richardson, and University Park). Incumbent MSO: TWC.

Fort Lauderdale, Fla. Incumbent MSO: Comcast.

Fort Worth, Texas (Arlington, Euless, Fort Worth, and Haltom City). Incumbent MSOs: TWC and Charter Communications.

Greensboro, N.C. Incumbent MSO: TWC.

Jacksonville/St. Augustine, Fla. Incumbent MSO: Comcast.

Houston, Texas (Galveston, Houston, Katy, Pasadena, Pearland, and Spring). Incumbent MSO: Comcast.

Kansas City, Mo./Kan. (Independence, Kansas City, Leawood, Overland Park, and Shawnee). Incumbent providers: TWC, Comcast, SureWest, and Google Fiber (portions).

Los Angeles, Calif. Incumbent MSO: TWC.

Miami, Fla. (Hialeah, Hollywood, Homestead, Miami, Opa-Locka and Pompano Beach). Incumbent MSO: Comcast.

Nashville, Tenn. (Clarksville, Franklin, Murfreesboro, Nashville, Smyrna and Spring Hill). Incumbent MSO: Comcast.

Oakland, Calif. Incumbent MSO: Comcast.

Orlando, Fla. (Melbourne, Oviedo, Orlando, Palm Coast, Rockledge, and Sanford). Incumbent MSO: Bright House Networks.

Raleigh, Durham, N.C. (Apex, Garner, Morrisville, Carrboro, Chapel Hill, Durham, Raleigh). Incumbent MSO: TWC.

St. Louis, Mo. (Chesterfield, Edwardsville, Florissant, Granite City, and St. Louis). Incumbent MSO: Charter.

San Antonio, Texas. Incumbent MSO: TWC.

San Diego, Calif. Incumbent MSO: Cox Communications.

San Francisco, Calif. Incumbent MSO: Comcast.

San Jose, Calif. (Campbell, Cupertino, Mountain View, and San Jose). Incumbent MSO: Comcast.

Winston-Salem, N.C. Incumbent MSO: TWC.
Craig Moffett, senior research analyst at Moffet Nathanson Research, said in a recent research note that AT&T could be on the cusp of a grander GigaPower buildout plan that would help Google achieve its ambitions of nudging ISPs to beef up broadband capacity, but "on AT&T's dime."
See more at:
http://www.multichannel.com/news/technology/att-threatens-expand-gigapower-21-us-metros/373994#sthash.R7mdwRrb.dpuf
http://www.multichannel.com/blog/bauminator/google-fiber-fever/373793
Thu, 04/17/2014 - 14:13 — Alan Weissberger
Verizon Communications (VZ) is rolling out 100G technology on select high-traffic metropolitan and regional networks in the U.S. The telco is implementing Fujitsu's FLASHWAVE 9500 platform and the Tellabs+ 7100 system in its metro networks. Verizon will target metro areas where "traffic demand is highest," the company said. It did not identify which markets will see the deployments.
"Metro deployment of 100G technology is the natural progression of Verizon's aggressive deployment of 100G technology in its long-haul network," said Lee Hicks, vice president of Verizon Network Planning. "It's time to gain the same efficiencies in the metro network that we have in the long-haul network. By taking the long view, we're staying ahead of network needs and customer demands as well as preparing for next-generation services."
Verizon says the benefits of 100G scalability are especially relevant for signal performance, which is improved by using a single 100G wavelength as opposed to aggregating 10-10G wavelengths. Also, less space and reduced power requirements are needed to support 100G technology, compared with traditional 10G technology, so fewer pieces of equipment are needed to carry the same amount of traffic.
Verizon claims it's been a leader in 100G technology and we tend to agree. Beginning in November 2007, the company successfully completed the industry's first field trial of 100G optical traffic on a live system. Verizon currently has 39,000 miles of 100G technology deployed on its global IP network.
+ In Dec 2013, Tellabs was acquired by Marlin Equity Partners for $891 Million in cash (compare that to Google paying $19B for WhatsApp). http://www.tellabs.com/news/2013/marlin-completes-acquisition.pdf
References:
http://newscenter.verizon.com/corporate/news-articles/2014/04-15-100g-te...
http://www.channelpartnersonline.com/news/2014/04/verizon-unleashes-100g...
Tue, 04/15/2014 - 14:45 — Alan Weissberger
Infonetics Research released excerpts from its 2014 VoIP and UC Services and Subscribers report, which tracks service providers and their voice over IP (VoIP) and unified communications (UC) services revenue and subscribers.
VOIP AND UC SERVICES MARKET HIGHLIGHTS:
. The global business and residential VoIP services market grew 8% in 2013 from 2012,
to $68 billion
. SIP trunking shot up 50% in 2013 from the prior year, driven predominantly by activity in North America; EMEA is expected to be a strong contributor in 2014
. Sales of hosted PBX and unified communication (UC) services rose 13% in 2013 over 2012, and seats grew 35% due to continued demand for enterprise cloud-based services
. Global residential VoIP subscribers totaled 212 million in 2013, up 8% year-over-year
. Managed services are benefitting from the continued adoption of IP PBXs: Roughly 10%-20% of new IP PBX lines sold are part of a managed service or outsourced contract
. Infonetics expects continued strong worldwide growth in VoIP services revenue through 2018, when it will reach $88 billion
RELATED REPORT EXCERPTS:
. Infonetics' April Voice, Video, and UC research brief: http://bit.ly/1iDYtXO
. Videoconferencing and collaboration show strongest growth among UC apps
. Carrier VoIP and IMS market gains 30%; Huawei, ALU, Ericsson, NSN ride the VoLTE wave
. Enterprise SBC market grew 42% in 2013
. Mergers and buyouts stir enterprise telephony market; UC revenue climbs 31% in 2013
. Exploding mobile device traffic, acquisitions heat up Diameter signaling controller market
"Business VoIP services have moved well beyond early stages to mainstream, strengthened by the growing adoption of SIP trunking and cloud services worldwide. Hosted unified communications are seeing strong interest up market as mid-market and larger enterprises evaluate and move more applications to the cloud, and this is positively impacting the market," notes Diane Myers, principal analyst for VoIP, UC, and IMS at Infonetics Research.

VoIP AND UC REPORT SYNOPSIS:
Infonetics' annual VoIP and unified communications report provides worldwide and regional market share, market size, forecasts through 2018, analysis, and trends for residential and business VoIP and UC services and subscribers. The report also includes a Hosted PBX/UC Tracker highlighting deployments by service provider, region, and vendor platform. Residential VoIP providers in the report include AT&T, Cablevision, Charter, Comcast, Cox, Embratel, Iliad, J:Com, Kabel Deutschland, KDDI, KPN, KT, LG Uplus, Liberty Global, NTT, ONO, Orange, Rogers, SFR, Shaw Communications, SK Broadband, Sky, SoftBank, TalkTalk, Telecom Italia, Time Warner Cable, Verizon, Vonage, and others.
To buy the report, contact Infonetics: http://www.infonetics.com/contact.asp
....................................................................................................
Related Article:
VoIP, The PSTN Killer, Won't Kill Local Loops
Building on decades of Moore's Law, R&D steadily improved the electronics for Digital Subscriber Line (DSL) technology to squeeze more and more bandwidth from the copper. Advances came in several forms:
Many carrier frequencies on a pair. Orthogonal Frequency Division Multiplexing (OFDM) put hundreds of virtual modems in parallel, each on its own carrier frequency, over one wire pair.
More efficient coding. How a bit appears on the wire changed from simple on/off signals (T-1) to 4-level signals (ISDN), to adding a phase change (quadrature coding in modems). The number of bits per baud (how many bits each digital symbol conveys) went from 1 to 64 and may go higher.
Improved signal-to-noise (SNR) ratio. Echo canceling, first applied to voice, does wonders for data too.
Interference canceling. The latest is highly adaptive "vectoring" among all the pairs in a cable.
The term vectoring isn't instantly clear, but it's sometimes compared to noise-canceling headphones that actively counter unwanted sounds. Each wire pair in a cable, or at least in a binder group, in effect monitors all the other pairs for potential interference. When a signal on an one pair affects the signal on another pair the result is crosstalk, which makes it harder for the receiver at the customer end to read the data correctly.
http://www.webtorials.com/content/2014/04/voip-the-pstn-killer-wont-kill-local-loops.html
..................................................................................................
Related Webinar: IMS IN THE CLOUD WITH NFV:
Join analyst Diane Myers April 16 for Deploying IMS in the Cloud with NFV, a live event that investigates the benefits of using IMS to leverage the cloud to achieve network scalability, cost, and flexibility, as well as how network functions virtualization (NFV) enables innovation:
http://w.on24.com/r.htm?e=763407&s=1&k=6DD532531DA28F11FF4CCCE20A63DBDE


Fri, 04/11/2014 - 19:46 — Alan Weissberger
The core long-haul transport network market enjoyed 7.6% growth last year, partly driven by 100G network build-outs, according to Heavy Reading's Sterling Perrin. He says that "the packet-optical switch infrastructure is seeing rapid growth with wider adoption of 100G technology."
As operators deploy 100G, they are increasingly looking to integrate their 100G transport networks with switched [optical transport network] for a number of reasons, including the ability to groom lower-speed 10G traffic efficiently into the larger 100G pipes," Perrin writes.
..................................................
ACG Research writes:
Key Optical Market Trends 2013-2018:
Continued demand for capacity driving the need for DWDM equipment and specifically 100 Gbps wavelengths. Dell'Oro Group expects the DWDM market to grow at an average annual rate of eight percent through 2018 and for 100 Gbps wavelengths to contribute the largest share of DWDM capacity shipments, approaching 80 percent by 2018.
Movement towards OTN and packet transport driving the demand for optical packet platforms with OTN switching features. Dell'Oro Group projects optical packet platform revenue to grow at a 15 percent compounded annual growth rate.
Ratio of equipment sales in metro optical versus core optical applications to drift over the next five years, with the majority of spending in metro applications.
- See more at: http://www.delloro.com/news/optical-transport-equipment-market-to-reach-15-billion-by-2018#sthash.PAZxiMjT.dpuf
The overall optical market is over $12 billion, with the packet transport segment

becoming the fastest growing segment in the entire market.
Contributing to the growth is the enterprise and content provider segments, which together amount to over 20 percent of the market. The Telco, wireless and MSO segments make up the rest.
The technologies include a combination of optical networking products that operate separately or within a single converged platform called Packet Optical Transport System (POT-S) such as ROADMs, TDM, and Carrier Ethernet switching products. These platforms reside in the metro edge, metro core and the long haul networks of major service providers today.
http://www.acgresearch.net/domain-expertise/packet-optical-transport.aspx
......................................................
From the Del'Oro Group: Key Optical Market Trends 2013-2018:
Continued demand for capacity driving the need for DWDM equipment and specifically 100 Gbps wavelengths. Dell'Oro Group expects the DWDM market to grow at an average annual rate of eight percent through 2018 and for 100 Gbps wavelengths to contribute the largest share of DWDM capacity shipments, approaching 80 percent by 2018.
Movement towards OTN and packet transport driving the demand for optical packet platforms with OTN switching features. Dell'Oro Group projects optical packet platform revenue to grow at a 15 percent compounded annual growth rate.
Ratio of equipment sales in metro optical versus core optical applications to drift over the next five years, with the majority of spending in metro applications.
http://www.delloro.com/news/optical-transport-equipment-market-to-reach-...
Fri, 04/04/2014 - 10:49 — Alan Weissberger
Introduction:
"Security will never be the same again. It's a losing battle," said Martin Casado, PhD during his Cloud Innovation Summit keynote on March 27th. Currently, security spend is outpacing IT spend, and the only thing outpacing security spend is security losses. Clearly this isn't an issue of investment, innovation, or priorities as huge industries are built around security. Mr. Casado believes there is a fundamental architectural issue: that we must trade off between context and isolation when implementing security controls. With today's huge data centers, there is a very large potential "attack surface" for malware and other cyber threats.
Astonishingly, Martin said that approximately "40% of actual SDN adopters paying money for SDN network virtualization are doing it as a security use case." The concept is to use network virtualization as a primitive, as building blocks to build micro-segments. if you put something within one of those virtual networks, or within one of those segments, the only thing that it can see are also in that same segment. For example, for every application running on a virtual network can have its own security services, ie. its own L4 through L7 services. And if it gets compromised, the attack gets localized to just the layer effected. As a result, this use case is driving a lot of the adoption of network virtualization, according to Mr. Casado.
Martin said, "This has become, I think, the driving use case (for the data center) going forward. And as things like SDN and network virtualization cross the chasm (and become a significant revenue generating business), I think it's security that's going to do it."
A Horizontal Security Layer:
Security in the data center involves a basic trade-off between context and isolation. If security control, such as a firewall a monitoring/tracking agent, is implemented within the application, it's got great context. It knows the users, the data, and the files. But there's no isolation. As a result, the user doesn't trust the application or the endpoint. "So putting a security control there is kind of like taking the on-off switch to an alarm system and putting it on the outside of a house. It doesn't make any sense."
"Maybe I'll put the security control in the infrastructure. Let's put ACLs or whatever on servers, switches and routers, which provides very good isolation between the two. If I'm able to break into a server, I haven't broken into the router, necessarily. But while the attack surface is much smaller (with isolation between the separate boxes), there isn't any context. The resident security control doesn't know the users or applications. It doesn't have access to local file systems."
So there's a fundamental trade-off between:
a] Great context (know everything about the operational environment) without any real security/isolation, OR....
b] Terrible context (know nothing about the operational environment), but have great security through isolation.
Can the industry build a "Goldilocks zone" that goes ubiquitously throughout the (virtualized) data center, which provides both context and isolation? The Goldilocks Zone would be a place where both visibility and security are possible — in a location that's not too visible or not too inaccessible, but just right. A horizontal security layer that provides both context and isolation was proposed as that "Goldilocks layer" by Martin.
Casado said that since the majority of workloads are virtualized, (horizontal) security control could be placed in the hypervisor (a separate trust domain). That security entity could then peer into the application to pull out meaningful context (like users and applications and observe the state of the network). It could also protect that visibility and provide protection and enforcement. Therefore, the hypervisor seems to be an optimal place to implement security- where you have visibility, context and isolation.
"And so this is kind of a major area that I'm looking into, because again, given the state of the security industry and if things go the way we are, we're going to be spending all our time and money on it, we do need something that will change the architecture (of the data center) and the way we view it. What we're missing today is a horizontal layer that we can provide meaningful security."
If this horizontal security layer is built out as a software platform (residing within a hypervisor), new security features can be included. Martin cited two examples:
Next-generation firewalling with deep visibility in the end host.
Network access control that understands objects and people or meaningful policies or vulnerability assessment.
--> Martin claims that data center security, whether it's end host security, or network access control, vulnerability assessment, IDS, or IPS, etc. would all be enhanced by such a horizontal security layer. All of them need better isolation and all of them need more context.
"So if we can build out this horizontal layer in this "Goldilocks zone," I think we can actually move security in very much the same way that we have moved networking over the past seven years. I mean, I dedicated my life to SDN, and I think that we have the same type of opportunity here."
Author's Note: When malware invades a (physical) server it immediately tries to block the operations of any anti-malware software. Since any process running on a virtualized server has no way to reach the hypervisor, a security layer that's operating within the hypervisor can take action to mitigate the malware or security threat. However, there is currently no security layer in VMware's or anyone else's hypervisor.
Martin's Summary:
The IT industry needs to develop a horizontal layer for security controls and to use micro-segmentation to limit the attack surface within within the data centers. That will protect the data center and the assets within it from malicious attacks.
"This is a once in a wave opportunity, as we're redefining these new architectures, to actually build security in as a primitive, as a fundamental primitive. So we have a root of trust. So you have a horizontal security layer that you can build rich systems on top of."
Martin in Conversation with Michael Howard:
In the interview with Infonetics' Michael Howard, Martin called attention to the problem of detecting the imminent arrival of a large flow of data (an elephant) that would trample smaller data flows (the mice). "Nobody knows how to detect elephants, and we can't do it from within the network," he said.According to Casado, the hypervisor actually can see the future, in that it can detect the amount of data that is queued to be transmitted. The hypervisor can therefore sniff out elephant flows. You can go ahead and mark it, and then that will solve this long standing performance issue (between the elephant and the mice data flows) in networking.
In a subsequent email exchange, Martin wrote: "The hypervisor, with the aid of a guest presence, can look directly into the TCP send buffer to detect an "elephant" (large packet queued to be sent). This is likely to be a far more accurate approach than anything stochastic, such as flow tracking in the network."
Q & A with this Author:
Alan: "Michael (Howard) asked you to explain the situation of SDN, NFV and telco service provider networks, and you mentioned what the problem is, but not the challenge telco's face. The problem being that web hosting (provided by telco's) is a low-margin business, the telco's customers are building overlay networks to deliver cloud services and carriers want a part of that cloud business.What's your opinion of whether or not they'll succeed, and what really are the obstacles in building a carrier cloud?"
Martin Casado: "That's a good question. NFV, I think at the most basic level, is just disaggregating the service from the box, and people have different ideas about what that service is. I see basically two camps. One camp is for big carrier, heavy gear that's sold by the likes of Ericsson and Nokia Siemens, I want to decouple that software and that hardware.I think that's going to be a very difficult journey.
I think the incentives aren't aligned correctly. I'm not sure there's a technical rationale for doing that. So when it comes to actually doing NFV for core carrier equipment, I don't buy this is going to actually happen. I could be wrong, but just from an industry standpoint, I just don't see the incentives aligned correctly.
Another way that you can view NFV is providing L4 through L7 services, things that are already virtualized and running in (Intel) x86 processors. So I'm going to offer security services, I'm going to offer load-balancing services. For that, I think that, A, this is already happening. I think the telcos are in a great position because they own the infrastructure to provide this. You hear about virtualization of VPN using top solutions. I think all of that will happen.
I'm actually suggesting something even a little bit more radical. So, again, the NFV where you're trying to disaggregate the big hardware boxes. I'm not sure there's a technical justification. There's a market justification. I don't think there's a technical justification. I think it's going to be too difficult.
When it comes to kind of L4 through L7 services, these things are already on x86, virtualisation will happen. The carriers know how to provide these as a service. I think they'll be successful with that. I'm suggesting something even more radical, which is why don't you build an API and a platform that the guys that you typically have host have to use?
So instead of hosting BitTorrent or Netflix or whatever, have them program to your APIs. And so I'm not sure if anybody's talking about that but me, but I do think that's what NFV should become."
.........................................................................
Conclusions:
Lack of effective security remains the number one obstacle to cloud adoption for enterprise customers. Malware is getting worse and the evil people who create it are getting better at finding ways to insert malware/ spyware into both servers, switch/routers and virtual machines.
A solution like Casado proposes (the horizontal layer within a hypervisor) seems quite workable, but it hasn't been implemented yet by any vendor we know of. Instead, there are a raft of add-on security appliances and agents that don't provide a whollistic and effective security solution. Let's hope that security becomes a competitive issue in the world of virtualized systems, especially within cloud resident data centers.
..................................................................................
Addendum:
VMware: How the Hypervisor can be Security's Savior
http://www.computerworld.in/news/vmware%3A-how-the-hypervisor-can-be-security's-savior
Acknowlegement:
The author sincerely thanks Martin Casado, PhD Stanford, for his diligent review of this article and his helpful comments and corrections that made it more accurate.
..................................................................................................................
Postscript:
A Sept 27, 2014 Barron's article hints that VMWare may sell Hypervisor security software to commodity servers and bare metal switches:
"In an age of break-ins at major retailers like Target and Home Depot, he notes, more and more network attacks can't be stopped by conventional network firewall devices sold by Cisco and Check Point Software Technologies. To Martin Casado of VMWare, the virtual machine will assume a new role of protecting all the precious containers running on each server.
"So, call it a security visor, call it whatever you want," he says. "The nature of a hypervisor changes to one of providing isolation for those applications," he says. Casado's ambition is even broader. Some of the traditional network switching business of Cisco can be disrupted, he says. VMware hypervisor software can be sold as a program to manage inexpensive switches from Dell and others that undercut Cisco's premium. It is, to Casado, a grand transformation of the networking business, one that clearly excites him as he draws various diagrams on a white board of the shifting architecture of networks. "We haven't even seen yet what will happen with this fundamental change" in IT, he says.
The business he oversees, called NSX, is running at over $100 million annually, still small, but Casado has 3,000 VMware salespeople to help sell it, and 50 million VMware-enabled virtual machines running in data centers—"enormous" resources," he says."
If he can transition VMware to the next era of data centers and networking, Casado may both save the company from obsolescence and open up a new frontier on Cisco's turf.
Wed, 04/02/2014 - 19:00 — Alan Weissberger
Alcatel-Lucent has broadened its software-defined networking (SDN) portfolio with the introduction of a programmable access switch that features embedded analytics and can scale to deliver up to 32 10G uplinks. The OmniSwitch 6860 supports the OpenFlow and OpenStack protocols and will be commercially available next month.
It features 24 or 48 Gigabit Ethernet ports, four fixed 1G/10G SFP+ ports and two 20G Virtual Chassis link ports for stacking into a virtual chassis. Up to eight switches can be connected into a virtual chassis with up to 32 10G uplinks and 384Gigabit Ethernet ports.
The enhanced OmniSwitch 6860 "E" models also support four unique 1G PoE ports that offer up to 60 watts of power to support devices that require high power, such as small cells that combine cellular and Wi-Fi, and high definition video surveillance cameras. The 6860 also includes embedded analytics and programmability, Alcatel-Lucent says. It features an ASIC and coprocessor for deep packet inspection and policy enforcement. This is intended to give IT more visibility into applications passing through it, bandwidth consumption, and enforcement of prioritization, QoS and security policies.
More at: http://www.businesscloudnews.com/2014/04/02/numergy-selects-nuage-networks-for-sdn-to-support-cloud-datacentres/
.....................................................................................
Numergy selects Nuage Networks for SDN to support cloud data centers
One year old Nuage Networks provides a software defined networking (SDN) platorm for provisioning, orchestration, and control of virtual network resources/end points The wholly owned subsidiary of Alcatel Lucent provides needed software for that facilitates connectivity between virtual resources in data centers, inter-connection of federated data centers and tieing together of virtual private networks used by branch offices to access cloud services.
French cloud service provider and IT specialist Numergy recently announced that the company will deploy Alcatel-Lucent routers and Nuage Network's SDN platform to support its cloud computing infrastructure. Numergy is owned by a French consortium that includes the government, SFR and Bull. It said the move is an essential stepping stone towards virtualising more of its datacentre resources. Their mission: to build a "sovereign cloud" that serves consumers and businesses, first in France and then in Europe, and to ensure the location and privacy of sensitive data in compliance with the laws of France and the European Union (EU).
Numergy implemented Nuage Networks' virtualized services platform (VSP) and virtualized services gateway (VSG) as well as Alcatel-Lucent routers to manage and automate its datacentre networks. The company said the upgrades will make its internal networks more efficient, and that this is a key stepping stone in its broader strategy to virtualise more of its datacentre resources.
"We are pleased to implement the Nuage Networks product suite in our cloud infrastructure. The Nuage Networks SDN technology allows us to address key performance and compatibility requirements for an open environment," said Erik Beauvalot, chief operating officer of Numergy. "This will allow us to virtualize our infrastructure and to offer our customers cloud services in a more dynamic way," Beauvalot added.
.................................................................................................................
During the Netevents Cloud Innovation Summit, CEO Sunil Khandekar said, "Look at application delivery as the product of the network. Because if we orient ourselves in making us think of networks and compute and storage in terms of allowing applications to be deployed very, very rapidly the whole model in how we build and automate these networks completely changes." Sunil added that SDN was the technology that made rapid and robust application delivery happen. He said that the key attributes of SDN are abstraction, automation, control and visibility. Abstraction of the underlying network was defined as having the applications not be concerned about VLANs, IP addressing, what protocols they're running, etc. in the network. They just specify what they need, what the application requirements are in an abstract format and the SDN tools facilitate the virtual connections.
Nuage Networks won Enterprise award at the 2014 NetEvents Cloud Innovation Summit held in Saratoga, California on March 27, 2014. All the award winners are listed in this article:
http://community.comsoc.org/blogs/alanweissberger/winners-netevents-clou...
The Nuage Networks Portfolio includes:
Nuage Networks Virtualization Services Platform (VSP) – lays the foundation for an open and dynamically controlled datacenter network fabric to accelerate application programmability, facilitate unconstrained mobility, and maximize compute efficiency for cloud service providers.

Virtual Services Directory (VSD) – serves as a policy, business logic & analytics engine for the abstract definition of network services. Through RESTful APIs to the VSD, administrators can define and refine service designs and instantiate enterprise policies.
Virtualized Services Controller (VSC) – serves as the robust control plane of the datacenter network, maintaining a full per-tenant view of network and service topologies. It is an SDN controller with advanced federation capabilities that ensure scaling and graceful interconnection to existing IP networks. Through interfaces such as Openflow, the VSC programs the datacenter network independent of networking hardware.
Virtual Routing & Switching (VRS) – serves as a virtual endpoint for network services. Through the VRS, changes in the compute environment are immediately detected, triggering instantaneous policy-based responses in network connectivity to ensure that the needs of applications are met.

Nuage Networks 7850 Virtualized Services Gateway (VSG) - extends the benefits of SDN automation seamlessly between virtualized and non-virtualized assets in the datacenter. The 7850 VSG is a high-performance gateway platform, offering up to a terabit of capacity in a single rack unit with full layer 2 to layer 4 capabilities for multi-tenant datacenter environments.
More at: http://www.alcatel-lucent.com/news/2014/numergy-and-secure-sovereign-cloud
http://www.businesscloudnews.com/2014/04/02/numergy-selects-nuage-networ...
http://www.nuagenetworks.net/resource-center/
Nuage Networks Launch Event April 2, 2013
http://www.youtube.com/watch?v=Y2WXJeOg5Ko
Stay tuned for a feature article on Nuage Networks, based on a visit to their Mt View, CA facility today (April 3, 2014) and their comments at last week's Cloud Innovation Summit (March 27-28, 2014) in Saratoga, CA.
Tue, 04/01/2014 - 06:55 — Anonymous
Global wireless CapEx is on the rise, as operators deploy LTE and Heterogeneous Network (HetNet) infrastructure, amid growing demands for high-speed mobile broadband connectivity. By eliminating reliance on expensive proprietary hardware platforms, Network Functions Virtualization (NFV) and Software Defined Networking (SDN) promise to reduce the CapEx burden on wireless carriers. In addition, both technologies can significantly slash OpEx due to a reduction in physical space, labor and power consumption.
Driven by the promise of Total Cost of Ownership (TCO) reduction, wireless carriers are aggressively jumping on the NFV and SDN bandwagon, targeting integration across a multitude of areas including Radio Access Network (RAN), mobile core, OSS/BSS, backhaul and CPE/home environment.
By 2020, the research estimates that NFV and SDN investments on the RAN segment alone will account for over $5 Billion. These investments will primarily focus on cloud RAN (C-RAN) deployments, based around the idea of replacing traditional base station nodes with a centralized baseband processing pool serving a number of distributed radio access nodes.
Spanning over 1,105 pages, the "NFV, SDN & Wireless Network Infrastructure Bible: 2014 – 2020 - (http://www.reportsnreports.com/reports/278224-the-nfv-sdn-wireless-network-infrastructure-market-2014-2020.html)" report package encompasses three comprehensive reports covering the conventional 2G, 3G and 4G wireless network infrastructure market as well as the HetNet and NFV/SDN markets:
The Wireless Network Infrastructure Bible: 2014 – 2020 - Macrocell RAN, Small Cells, RRH, DAS, Cloud RAN, Carrier WiFi, Mobile Core & Backhaul
The HetNet Bible (Small Cells and Carrier WiFi) - Opportunities, Challenges, Strategies and Forecasts: 2013 – 2020 – With an Evaluation of DAS & Cloud RAN
The SDN, NFV & Network Virtualization Bible: 2014 - 2020
This report package provides an in-depth assessment of NFV, SDN, network virtualization, 2G, 3G and 4G wireless network infrastructure, HetNet and mobile backhaul. Besides analyzing the key market drivers, challenges, commercial commitments and vendor strategies, the report package also presents forecasts for NFV, SDN, wireless network infrastructure, small cell, WiFi offload, Distributed Antenna Systems (DAS), C-RAN the mobile backhaul markets from 2014 to 2020 at a regional as well as a global scale. Historical figures and vendor shares are also provided for 2010 till 2013.
The report package comes with an associated Excel datasheet suite covering quantitative data from all numeric forecasts presented in the three reports.
Topics Covered:
The report package covers the following topics:
Wireless Network Infrastructure Topics
2G(GSM and CDMA) technology and market trends
3G (W-CDMA, TD-SCDMA and CDMA-2000) technology and market trends
4G (LTE, WiMAX) technology and market trends
Core network equipment market trends
Mobile backhaul equipment and market trends
WiFi offload, small cell, DAS, cloud RAN and HetNet technology and market trends
Market drivers for wireless network infrastructure investments
Challenges to the wireless network infrastructure ecosystem
Vendor profiles and strategies
Global and regional market analysis and forecasts
SWOT analysis of the wireless network infrastructure market
NFV and SDN Topics
The scope and implementation of SDN, NFV and network virtualization across the globe
SDN, NFV and network virtualization technology
Market drivers and key benefits of SDN, NFV and network virtualization
Challenges and inhibitors to the ecosystem
Standardization and regulatory initiatives
Use cases and application case studies of SDN and NFV
SDN and NFV deployment case studies
SDN and NFV induced service provider CapEx savings
Value chain analysis of the ecosystem and the recognition of key players in each segment of the value chain
Industry roadmap from 2014 till 2020
Key trends in the ecosystem; SDN and NFV's impact on the network infrastructure value chain, the stance of incumbent vendors towards SDN and NFV, impact on the proprietary hardware market and co-existence with legacy networks
Exclusive interview transcripts of 17 players in the ecosystem; Alvarion, Aricent, Arista Networks, Broadcomm, Connectem, ConteXtream, Extreme Networks, GENBAND, Mavenir, Netronome, Open Networking Foundation (ONF), Openwave Mobility, Pica8, Plexxi, Radisys, Spirent Communications and Tellabs
Profiles and strategies of 122 key players in the ecosystem
Strategic recommendations for silicon & server OEMs, network & mobile Infrastructure vendors, IT giants, pure-play SDN/NFV specialists, enterprises, data center operators and service providers
Global and regional market analysis and forecasts
Key Questions Answered:
The report package provides answers to the following key questions:
How is the 2G, 3G & 4G infrastructure market evolving by segment and region? What will the market size be in 2017 and at what rate will it grow?
What trends, challenges and barriers are influencing its growth?
How will the market shape for small cell infrastructure such as DAS, femtocells, picocells, microcells and other "HetNet" deployments?
How will WiFi fit into future network architectures for access and offload?
Who are the key vendors in the market, what is their market share and what are their strategies?
What strategies should be adopted by operators and vendors to remain a dominant market force?
Which 2G, 3G & 4G technology constitutes the highest amount of spending and how will this evolve overtime?
How will LTE deployments proceed, and how long will GSM, HSPA and CDMA technologies coexist with LTE?
When will WiMAX infrastructure spending diminish?
What is the global and regional outlook for RAN and core network sub-markets?
What is the opportunity for wireless backhaul market, and what new backhaul solutions are evolving?
What are the key market drivers and challenges for SDN, NFV and the wider network virtualization ecosystem?
How can SDN and NFV complement each other?
What are the key applications and use cases of SDN and NFV?
How is the SDN, NFV and network virtualization value chain structured and how will it evolve overtime?
What opportunities do SDN and NFV offer to silicon & server OEMs, network & mobile Infrastructure vendors, IT giants, pure-play SDN/NFV specialists, enterprises, data center operators and service providers and other players in the value chain?
What strategies should these players adopt to capitalize on the SDN and NFV opportunity?
How are SDN and NFV vendors positioning their product offerings?
How big is the SDN, NFV and network virtualization ecosystem, and how much revenue will it generate in 2020?
What particular submarkets does the ecosystem constitute?
What geographical regions, countries and submarkets offer the greatest growth potential for SDN and NFV investments?
Who are the key players in the SDN and NFV ecosystem and what are their strategies?
How will SDN and NFV impact the network infrastructure value chain?
Is there a ring leader in the SDN and NFV ecosystem?
How long will service providers continue to utilize proprietary hardware platforms?
How can SDN and NFV help make the Voice over LTE (VoLTE) and Rich Communication Services (RCS) business case work?
How can software-defined Deep Packet Inspection (DPI) complement SDN functionality?
What level of CapEx savings can SDN and NFV facilitate for service providers in each region?
There are 1233 companies mentioned (list is too long to include here without this being a PROMOTION rather than a blog post)
http://www.reportsnreports.com/reports/278224-the-nfv-sdn-wireless-netwo...
Mon, 03/31/2014 - 11:52 — Michael Marcus
While ITU has spectrum allocations as high as 275 GHz and claims jurisdiction to 3000 GHz, FCC - and probably all nation spectrum regulators ("administrations" in ITU jargon) - have no specific rules, licensed or unlicensed, for frequencies greater than 95 GHz - with the minor exception of provisions for radio amateurs and ISM (e.g. microwave ovens) in a few small segments. This lack of rules and quick market access probably inhibits capital formation for innovative wireless products because it raises unusual and unquantifiable "regulatory risks"
The commentators of Fox News repeatedly comment on the "war on coal" and the "war on religion". Well, the "war on millimeter (mmW) wave technology" at FCC is just as real and easier to document, although it is no doubt unintentional. There are 3 proceedings at FCC that document FCC's present disinterest/apathy towards commercial use of cutting edge microwave technology, even as other national competitors advance in this area due to better collaboration between indusrial policy and spectrum policy.

The current situation of US regulation >95 GHz needs the urgent attention of communications technologists, especially researchers and firms dealing with millimeter wave technology. The lack of "service rules" beyond 95 GHz makes regular commercial licensed or unlicensed mmW use impossible. This in turn greatly complicates capital formation for such technology because VCs can easily find other technology to invest in that does not involve making a prominent communications lawyer member a member of your family for several years and paying his children's college tuition while at the same time the entrepreneur has no access to market and bleeds red ink.

Sadly, with the exception of the IEEE 802 LAN/MAN Standards Committee (the techies behind Wi-Fi standards), Boeing, and the more obscure (at least in FCC circles) Battelle Memorial Institute and the rather obscure Radio Physics Solutions, Inc., no commercial interests have filed comments with FCC on 3 key issues blocking capital formation for technology above 95 GHz and by extension hindering US competitiveness in advanced radio technology.

The 3 dockets involved are:


Docket 10-236 which as was supposed to encourage experimentation had the apparently unintended effect of complicating millimeter waver research by forbidding, for the first time and without an explanation, all experimental licenses in bands with only passive allocations - independent of whether there was any adverse impact on passive systems. Many mmW bands have only passive allocations and it is difficult a and expensive to avoid them in initial experiments with new technology and it is not important if there is no passive use near the experiment than could get interference. Since the text of the Report and Order contradicts itself on this issue, the simplest explanation is that a sentence was put in the wrong section. Your blogger filed a timely reconsideration petition when he noticed this 2 days before the deadline and that had been supported by Battelle and Boeing and

has been opposed by none

. But FCC doesn't necessarily react in a timely way, specially when incentive auctions are very distracting and staffing is low, unless there are multiple expressions of concerns, preferably from corporate America.
Docket 13-259 deals with the IEEE-USA petition seeking timely treatment of new technology proposals for this green field spectrum >95 GHz under the terms of 47 USC 157, although any clear statement from FCC on how to get timely decisions on such spectrum would be useful.
Docket 13-84 has proposed updating the Commission's RF safety rules. The rules currently only have numeric limits up to 100 GHz - the upper limit of the standard they were based on when they were last updated almost 2 decade ago - but the new proposals are silent on numeric limits above 100 GHz even though the standard that is now the base of the regulations now goes to 300 GHz! This lack of a specific safety standard above 100 GHz adds even more to the regulatory uncertainty of those interested in mmW technology. With today's mmW technology, the specific numeric standard doesn't really matter much because exposures will be low. But this proposal to leave ambiguity for mmW systems can be very damaging. Battelle has proposed one way to deal with a specific standard. Others interested in mmW technology should either support it or propose an alternative.
RM-11713 A specific proposal from Battelle for rules to allow a licensed point-to-point service at 102-109.5 GHz (between 2 bands allocated for only passive use).

Technology above 95 GHz may not be available at retailers like Walmart and Radio Shack today, but it is not "blue sky" either. (Wi-Fi was not a household word - even even yet named - when FCC created the rules for it in 1985.) The pictures below shows a 120 GHz systems used 6 years ago and a recent German 237 GHz experiment.
Spectrum policy need not be a "spectator sport". Wireless innovators should realize that access to capital for R&D depends on real business plans and that includes timely spectrum access in the case of wireless technologies. Listed above are 4 FCC proceedings that deal with technologies >95 GHz. The technical community has been oddly silent on all 4. You may not agree with all of them or even some of them, but the proper way to deal with that is make your voice known and tell FCC and/or you national spectrum regulator what you think about policies at the upper end of the spectrum.
vox populi, vox dei
Japanese 120 GHz system used at 2008 Beijing Olympics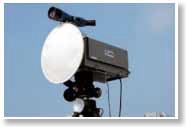 German 237 GHz System exceeding 100 Gbits/s
( An experiment probably not permitted in USA under the terms of FCC's recently revised experimental license rules)

Sat, 03/29/2014 - 18:25 — Alan Weissberger
Winners of the NetEvents Cloud Innovation Awards 2014 were announced March 27th at the NetEvents Cloud Innovation Summit celebration dinner in Los Gatos, CA, USA. These annual Industry Innovation Awards celebrate organizations and individuals that lead the world by innovation and performance in the networking and telecommunications sector.
The top prize was the "Cloud Industry Idol" award, won by Martin Casado, CTO Networking, VMware (and founder of Nicira, which was acquired by VMware in 2012 for $1.26 billion). Mr Casado, PhD Stanford, is quite a humble gentleman. He is an ultra marathon runner who actively competed in multiple races per year before his arduous business air travel shut him down. He wrote in an email to this author: "Thanks Alan, it was a pleasure to meet you. Flying 320K miles last year was brutal. I'm on track for the same this year...."
Mr Casado maintains a personal ultra running web page at: http://yuba.stanford.edu/~casado/ultrarunning.html
At the awards ceremony, NetEvents CEO Mark Fox said: "Martin's vision and innovations have helped ignite a vibrant SDN research community with potential to bring about one of the most radical transformations the networking industry has witnessed in the past 20+ years."
That's likely because Martin is credited as the inventor of OpenFlow API/protocol (between the separate Control and Data Plane equipment) while a PhD student in 2007. "SDN and OpenFlow came out of work we were doing at Stanford," Casado said. The term SDN was coined in 2009, but has become quite vague now. Neither Nicera or VMWare use OpenFlow in their implementations of Network Virtualization. The latter is effectively an overlay networking model, rather than the pure SDN model which requires all new -SDN complaint- networking equipment.
.................................................................................
Other Cloud Innovation 2014 award winners were:
Cloud Security Solution – for the most innovative, practical and effective contribution to cloud security – was won by HyTrust DataControl™ encryption and key management for its ability to give the data owner control of the keys to their cloud based data encryption solution. The other finalists were Juniper Networks & Wedge Networks (joint solution submission) and F-Secure.

SDN Solution for the Enterprise – for SDN solutions that offer easy migration, that deliver early ROI, and generally encourage businesses to take the first steps to tomorrow's networking. The result was a shared win for Nuage Networks' Virtualized Services Platform (VSP) and HP's Network Optimizer SDN application.

Hottest Cloud Company – this award was open to wide interpretation and was a difficult choice between AirWatch, NetSuite and one year old Nuage Networks. "NetSuite's one integrated offering allows companies of any size to move seamlessly move through most business operations" according to the judges, who awarded it also on the strength of its easy set-up and operation.

NFV Solution for Carriers – from a finalist line-up of Cyan, Gigamon and a joint submission from Juniper Networks & Wedge Networks, the judges picked out Cyan Blue Planet, notably for its support of an open cloud environment "whether Cyan hardware products are involved or not."

Cloud/Datacenter Solution – for the most innovative Cloud/Datacenter solution, providing major business benefits – was won by Citrix's CloudPlatform unified cloud management. The other finalists were CoreSite and RedHat

Cloud Mobility Solution – for cloud mobility solutions that offer useful and seamless service, but without compounding IT headaches. The judges decided that AirWatch's superb security solution, and the choice of ways to implement their solutions added up to a winning formula – over fellow finalists Aerohive and AdaptiveMobile

Cloud Services for the Enterprise – won by Comcast over finalists Basho and RedHat, notably on the strength of its superb friendly service to smaller business customers, including the Cloud Desk "concierge service" for hosted applications and the simplified customer support and billing.

Summing up Mark Fox, said: "These awards offer a rare opportunity to raise a company's profile in front of the world's leading media gatekeepers – reaching a massive global audience of high-level decision makers. What's more, these awards have also raised over $100K for charities to-date."
................................................................................................
For information about the NetEvents program of events plese visit:
http://www.netevents.org/events/events-overview
NetEvents PR contact:
Helen Whitworth
NetEvents International
helenw@netevents.org
+44 (0) 870 760 6464
.......................................................................
Cloud Innovation Summit Snapshot:
A key theme of this conference was that new approaches to cloud security are urgently needed. Martin Casado said he and VMware will be working on that. "Security will never be the same," he said pointing to increased threats and requirements for malware and network protection along with vulnerability assessment/management.
Martin's Stanford PhD Thesis (published in December 2007): ARCHITECTURAL SUPPORT FOR SECURITY MANAGEMENTIN ENTERPRISE NETWORKS presents a principled approach to network redesign that creates moresecure and manageable networks. It proposes a new network architecture in whicha global security policy defines all connectivity. The policy is declared at a logically centralized Controller and then enforced directly at each switch.

One panelist suggested that security functionality should be included in the application program and executed in the cloud. Others advocated building security into the lowest layer and implementing it in silicon (as Intel has done after their purchase of McAfee).
We will be covering Mr Casado's keynote presentation as it relates to Cloud Security as well as selected others in forthcoming articles. We will also consider writing up some of the 1 on 1 industry chat sessions that took place Thursday and Friday afternoons.
Stay tuned....

Thu, 03/27/2014 - 21:04 — Alan Weissberger
Introduction:
I attended three of four IoT sessions at IDC Directions 2014 plus sat in on a lunchtime roundtable discussion of IoT devices and semiconductors led by Mario Morales. All of the above were excellent. This article provides highlights of two presentations and abstracts of various IoT market studies.
On the Cusp of a Demand-Driven Internet of Things (IoT) Market, by Carrie MacGillivray
IDC defines the Internet of Things (IoT)
as a network connecting – either wired
or wireless – devices, or 'things', that is
characterized by autonomous
provisioning, management, and
monitoring. The IoT is innately analytical and integrated. While wireless connectivity was initially used, wireless is more prevalent today (e.g.

cellular, Bluetooth, WiFi, ZigBee)
..............................
30B Connected Things Predicted by 2020!
2012 -2020 CAGR = 6% from 19B connected devices in 2012
IoT Revenue Almost 2x by 2020 to $8.9T from $4.8T in 2012
IoT has been a supply driven market with vendors looking for new opportunities and revenue sources.
IoT has potential to complement product and service portfoliosOngoing development of connected Smart Cities/Cars/Houses/Things Regulatory environment
Age of "Big Data" will be used to analyze information collected from Internet connected devices
Connected Culture -High affinity for full-time connectivity
.............................
Survey Says… Only 27% of respondents have already deployed IoT; while 53% of respondents have plans to launch
• Opportunity exists for vendors to help service providers and system integrators to accelerate deployments
 Positive news is that less than 20% are not planning or haven't thought about how IoT can affect their business
Source: IDC's Internet of Things Survey, January 2014
 IoT vertical markets include: Healthcare, Banking, Utilities, Government, Transportation, Insurance, Retail
 Early Deployments in Metering & Payments also remote monitoring, digital signage, fleet tracking, security systems, asset tracking & others
............................
Key Challenges to IoT Adoption:
-Lack of standards
-Nascent ecosystem for app development
-Global scalability
-Other IT/mobility priorities
-Lack of customer awareness
.........................
What Will Hinder the deployment of IoT?
Security and/or privacy concerns, upfront costs for deployment, ongoing costs (connectiity charges, storage, etc), managment buy-in to the ultimate value or purpose of the solution
IDC's Denise Lund: Lack of Standardization and Privacy Regulations Could Strain IoT Growth
.....................................................
Frenemies & Coopetition Characterize the IoT Market in 2014 & Beyond
-Database Vendors & Systems Integrators
-Mobile Operators
-Embedded device and systems manufacturers
-->At the intersection of these three are: Intelligence, Connectivity, Analytics, Services
................................................
Survey Says… Leaders in the IoT will be – Anyone's Game?
-Device & semiconductor manufacturers
-Mobile operators
-Network equipment vendors
-Software vendors
-Systems integrators
...............................................................
Where Will IoT Growth Come From?
-B2B market 50%
-Consumer market 46%
-Government 4%
......................................
IoT will require new business models and will provide diversification of revenue stream for many players.
A business model of including (wireless) connectivity charges in the service, as Amazon did with its Kindle, may be also applicable to low duty cycle Internet access from connected devices.
. ......................
Closing Thoughts:
 Survey was a level set of expectations
• 63% say IoT is "strategic" to their business
 To date, IoT has been supply driven, but enterprise awareness and willingness to invest is becoming reality
 Opportunity is ripe for many vendors to play and win share
.................................................
Internet of Things (IoT): Realizing Value Through Intelligent Business Transformation, by Mario Morales
Key takeaways:
 Market transformation means change from top to bottom at your organization
• Markets are being redefined
 The next big markets are all ready here
• Intelligent systems unlock opportunity
 Appetite for data drives sustainable growth
• From the cloud to client
 Technology alone does not guarantee success
• Moving away from shipping hardware to system level value and solutions
 Focus must be on execution and solutions that address a diverging set of customers and vertical markets
• Ecosystem is fragmented, vertical market focused
........................................................
Key technologies enabling IoT business transformation:
 Heterogeneous SoCs
 Low power connectivity and SoCs, energy harvesting/reduction
 Security in silicon
 Large solid state capacity to support appetite for data and eventually analytics
 Natural User Interfaces (NUIs)
 Intelligent sensor fusion
 Audio and visual search, real time system learning
.......................................
Sensors are part of IoT Revolution

Proliferation of sensors are tied to their User Interface (UI):
 Providing systems with contextual awareness
 Connecting with our environment
 40 year effort to replicate human senses
 Market still looking for viable usage scenarios, applications, and business models
.......................

IoT Transformation Drives the Monetization of Data
Today: Function & data, Connected, Limited Security
Tomorrow: Data drives function, Interoperable, Scalable, Security is fundamental to IoT solution
....................................................................................................
IoT Markets with potential:
Retail/connected store, smart cities, intelligent vehicles (connected car, autonomous operation)
................................................................................................
Comment and Analysis:
We think that several different types of standards will be necessary for the overall IoT market to gain traction. And even then, security and privacy concerns will need to be addressed for each vertical market. The types of standards deal with Internet or local area connectivity (BlueTooth, low power WiFi, Zigbee, etc), Telco provisioning and management of millions of new device types, QoS for low latency or high throughput data transfers, and (vertical) industry specific specifications for data particular to the industry, e.g. health care, financial/banking, insurance, real estate, surveillance, etc.
During his closing keynote, UT Professor of Innovation (and Ethernet inventor) Bob Metcalfe, PhD, said that "software defined networking (SDN) hasn't really found it's niche yet. Perhaps, it will in managing the Internet of Things." Even though SDN was never intended to be used to provision, control and manage the IoTs/connected devices, we suggest that it could do so along with managing internal network equipment from source to destination route.
IDC's Worldwide Internet of Things Spending by Vertical Market 2014–2017 Forecast - Feb 2014
This IDC study analyzes the worldwide vertical market opportunity for the burgeoning Internet of Things (IoT) market. It provides a market outlook for 2012–2017 and sets the forecast within the context of the IoT ecosystem, including intelligent systems, connectivity services, platforms, analytics, and vertical applications in addition to security and professional services required to build out a complete picture. This study discusses the key vertical market trends contributing to the growth of the IoT on a worldwide basis. A worldwide vertical market revenue forecast is included.
"The Internet of Things market must be understood in terms of vertical markets because the value of IoT is based on individual use cases across all markets," said Scott Tiazkun, senior research analyst, IDC's Global Technology and Industry Research Organization. "Successful sales and marketing efforts by vendors will be based on understanding the most lucrative verticals that offer current growth and future potential and then creating solutions for specific use cases that address industry-specific business processes."
https://www.idc.com/getdoc.jsp?containerId=246384
..................................................................................
Addendum: IoT Market Research Studies
Mckinsey Global Institute's Disruptive Technologies report calls out the Internet of Things (IoT) as a top disruptive technology trend that will have an impact of as much as $6 Trillion on the world economy by 2025 with 50 billion connected devices. The Internet of Things is the next huge wave of growth of the Internet. Big growth numbers and expectations are dramatically expanding for the Internet of Things in Silicon Valley and globally. Valuations for IoT startups have also increased dramatically and caught Wall Street and the venture capital community by storm, including Google's acquisition of Nest for $3.2 billion dollars and Jawbone's pre-IPO valuation at $1.5 billion.
..................................................................................................
Gartner Group: IoT to transform data center market
The Internet of Things (IoT) has a potential transformational effect on the data center market, its customers, technology providers, technologies, and sales and marketing models, according to Gartner, The IoT is expected to reach 26 billion units installed by 2020, and by that time, IoT product and service suppliers will generate incremental revenue exceeding USD 300 billion, mostly in services.
The report has also identified potential challenges, covering security, enterprise, consumer privacy, data, storage management, server technologies, and data centre network.
The increasing digitization and automation of the multitudes of devices deployed across different areas of modern urban environments are expected to create new security challenges to many industries. Significant security challenges will remain as the big data created as a result of the deployment of myriad devices will drastically increase security complexity. This, in turn, will have an impact on availability requirements, which are also expected to increase, putting real-time business processes and, potentially, personal safety at risk.
As is already the case with smart metering equipment and increasingly digitized automobiles, there will be a large amount of data providing information on users' personal use of devices that, if not secured, can give rise to breaches of privacy. This is particularly challenging as the information generated by IoT is a key to bringing better services and the management of such devices.
The impact of the IoT on storage is two-pronged in types of data to be stored: personal data (consumer-driven) and big data (enterprise-driven). As consumers utilize apps and devices continue to learn about the user, significant data will be generated.
The impact of the IoT on storage infrastructure is another factor contributing to the increasing demand for more storage capacity, and one that will have to be addressed as this data becomes more prevalent. The focus today must be on storage capacity, as well as whether or not the business can harvest and use IoT data in a cost-effective manner. The impact of IoT on the server market is forecast to be largely focused on increased investment in key vertical industries and organizations related to those industries where IoT can be profitable or add significant value. Existing data center WAN links are sized for the moderate-bandwidth requirements generated by human interactions with applications. IoT is expected to dramatically change these patterns by transferring massive amounts of small message sensor data to the data center for processing, dramatically increasing inbound data center bandwidth requirements.
The magnitude of network connections and data associated with the IoT are expected to accelerate a distributed data center management approach that calls for providers to offer efficient system management platforms. This new architecture will present operations staffs with significant challenges, as they will need to manage the entire environment as a homogeneous entity while being able to monitor and control individual locations. Furthermore, backing up this volume of data will present potentially insoluble governance issues, such as network bandwidth and remote storage bandwidth, and capacity to back up all raw data is likely to be unaffordable. Consequently, organizations will have to automate selective backup of the data that they believe will be valuable/required. This sifting and sorting will generate additional big data processing loads that will consume additional processing, storage and network resources that will have to be managed.
http://www.telecompaper.com/news/iot-to-transform-data-center-market-stu...
..................................................................................
Semiconductor Wireless Sensor Networks IoT Market to Hit $12 bil by 2020 Forecasts a Research Report
Worldwide markets are poised to achieve significant growth as the Semiconductor Wireless Sensor Network is used to implement the Internet of things and to monitor pipelines, oil wells, and health care patients to illustrate the variety of projects supported by these networks.
Semiconductor wireless sensor networks (http://www.reportsnreports.com/reports/275026-semiconductor-wireless-sensor-internet-of-things-iot-market-shares-strategies-and-forecasts-worldwide-2014-to-2020.html) are used for bridge monitoring, implementing the smart grid, implementing the Internet of things, and monitoring for security implementation. The systems are used to implement energy savings in homes and commercial buildings, almost anything can be monitored with sensors and tracked on a smart phone. Projects are ongoing.
With 9 billion devices connected to the Internet in 2014, phenomenal growth is likely to occur when that number rises to 100 billion by 2020. Businesses control devices with sensors and wireless sensor networks (WSNs).
The sensors connected to the Internet promise to bring a big data explosion. Much of the data will be discarded, as users get simply overwhelmed by vast volumes. Analytics will become popular inside the wireless sensor networks so that alerts are generated at the point of collection of data.
The issue is how to embed analytics into the wireless sensor network control units so that only the alert data needed is transmitted. Users of information need to be able to find, control, manage, and secure the information coming from sensors onto the network. Users need to analyze and exploit the information coming from sensors.
Advanced technologies for wireless sensor networks are associated with emerging ways of interconnecting devices that have never been connected before. Networking is based on leveraging the feasibility of making sensors work independently in groups to accomplish insight not otherwise available. Advanced storage devices are emerging simultaneously with the energy harvesting devices that are economical, making sensor networks feasible. Storage devices can leverage the power captured by energy harvesting when sensors and devices are interconnected as a network.
Data storage technologies connected to the sensors are permitting far better control of the world around us, implementing vastly improved energy efficiency as lights and hearting are turned on and off just as needed. Wireless sensor networks implement cost-effective systems.
Wireless sensor networks are developing a market presence. They are set to power wireless sensor network proliferation. Independent sensor devices located almost anywhere have attained workable levels of efficiency.
The proliferation of apps on smart phones will drive growth of semiconductor wireless sensor networks markets because the sensors work directly as they are installed without excess labor and wiring that has been necessary previously, making the systems more convenient to install and run.
Healthy lifestyle choices can increase the length of DNA sequences found at the end of a person's chromosomes and reverse aging. This discovery is likely to increase interest in monitoring and testing DNA sequences and looking at the ends of the chromosomes. This discovery is likely to increase a shift toward wellness initiatives. It has stimulated the need for better communication between clinicians and patients. New sensor technology creates the opportunity for monitoring and testing. Wireless sensor network devices can be used to send alerts to at risk people who are exercising.
Wireless sensor networking is set to grow as sensors are freed from the grid and networks implement connectivity that is mesh architecture based. Converting ambient energy to useable electrical energy harvesting (EH) systems creates the opportunity to implement wireless sensor networks. These networks interconnect an inexpensive and compact group of devices and sensors. The networks use wireless capability to power portable electrical devices.
According to the semiconductor wireless sensor network market research study, "Semiconductor wireless sensor network markets are evolving as smart phone devices and technology find more uses throughout the landscape of the Internet of Things. Sensors can provide monitoring that has not previously been available. Differential diagnostic tools support provide differential information that helps manage our daily lives from traffic patterns to crime detections, to medical treatment."
"The decision process take into account clinical findings from the home monitoring devices and from symptoms verbally communicated in a clinical services setting. Improved economics of healthcare delivery implementation is facilitated by wireless sensor networks. This is true across the spectrum of things that can be monitored by sensors"
Semiconductor Wireless Sensor Networks Markets at $2.7 billion in 2013 are forecast to reach $12 billion Worldwide by 2020. Wild growth, frequently measured as penetration rates is a result of the change out of wired sensor networks for wireless ones. In addition, the wireless networks have a broader reach than the wired ones did, spurring market extensions in a variety of applications, some not even thought of so far.
Market growth is dependent on emerging technology. As the wireless technology, the solid state battery, the sensor technology, smart phone technology and the energy harvesting technology all become commercialized, these devices will be used to implement wireless sensor networks. The semiconductor wireless sensor networks markets will be driven by the adoption of 9 billion smart phones by 2020, creating demand for apps that depend on sensor networks.
Inquire for Discount at: http://www.reportsnreports.com/contacts/discount.aspx?name=275026